Trailer Nets [Ultra Heavy Duty]
Trailer Nets [Ultra Heavy Duty]
High-Quality Cargo Nets Available In 5 Sizes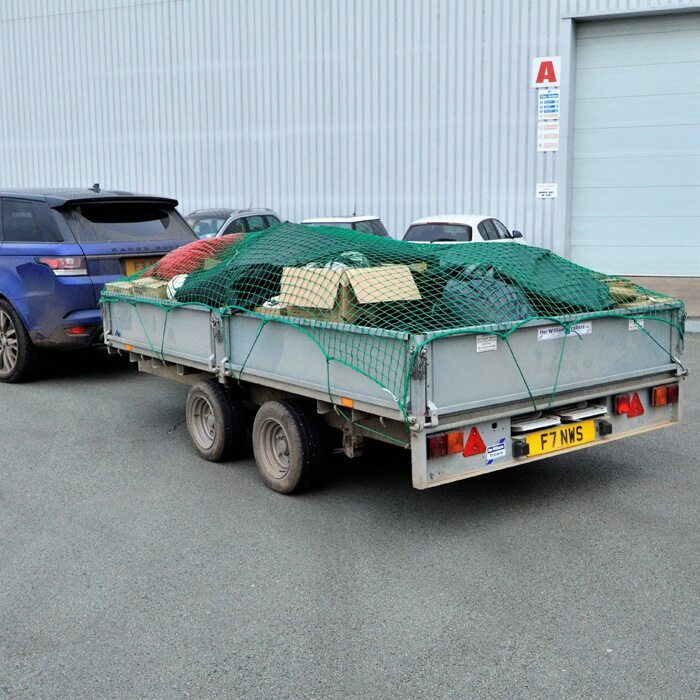 Easy To Secure
Constructed with 1.2m tie cords, these hard-wearing nets can be tightly attached to any size trailer, ensuring your cargo will remain secure throughout high-speed transportation.
Weatherproof Twine
Designed for all-weather use, trailer netting is manufactured from weatherproof 3mm twine. This hard-wearing material ensures your cargo netting will not corrode after prolonged exposure to the elements.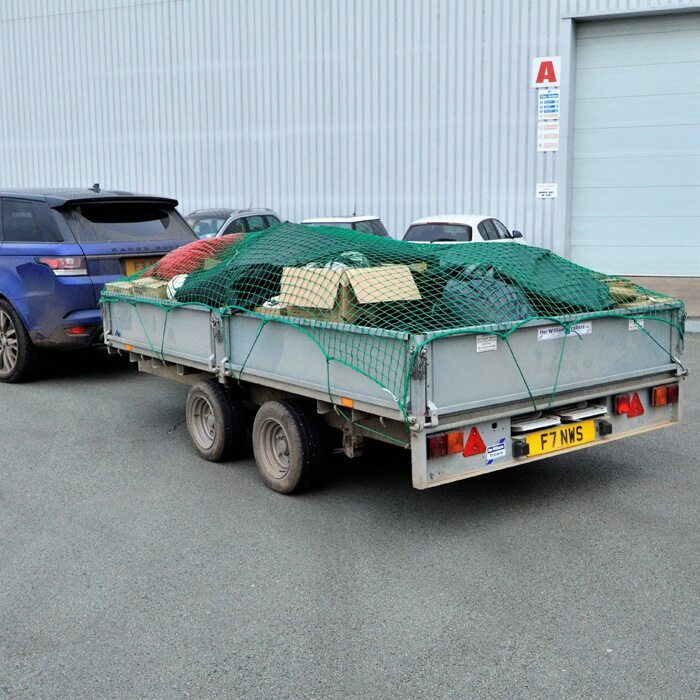 5 Sizes Available
Made to secure trailers of any size, this ultra heavy-duty trailer netting is available in five sizes. This allows you to select a net which fits the exact specifications of your truck without any additional slack.
Description
Ultra Heavy-Duty Trailer Cargo Nets Manufactured From 3mm Thick Weatherproof Twine
Make sure all of your cargo remains within your trailer with these ultra heavy-duty trailer nets. Manufactured with 4ft (1.2m) long tie cords, you can rely on this industrial netting to tightly secure the merchandise within your trailer, regardless of how fast you are travelling.
Trailer nets are manufactured from 3mm twine with 48mm mesh
Weatherproof for year-round all-weather performance
4ft (1.2m) tie cords are attached to this netting for easy attachment to all trailers
Sizes available 8ft x 5ft, 12ft x 8ft, 15ft x 9ft, 18ft x 12ft and 24ft x 12ft
1 year warranty
Features a twine break strength of approximately 130kg (287lbs)
To ensure this trailer netting can be used throughout all intense weather conditions, it is manufactured from 3mm thick weatherproof twine. This hard-wearing material prevents the net from corroding after heavy rainfall or intense sunlight. Another useful aspect of this trailer netting is its small mesh squares. Measuring just 48mm, this small mesh prevents large debris from escaping your trailer, in turn guaranteeing safe transit.
Available in five sizes, 8ft x 5ft (2.4m x 1.5m), 12ft x 8ft (3.6m x 2.4m), 15ft x 9ft (4.6m x 2.7m), 18ft x 12ft (5.5m x 3.6m) or 24ft x 12ft (7.3m x 3.6m), this ultra heavy-duty trailer net is supplied with a 1 year manufacturer warranty. This guarantees you will receive the full value of this cargo netting.
Net World Sports also stocks high-quality industrial equipment which can increase the level of safety inside your warehouse or building site including, Mesh Skip Nets [Ultra Heavy-Duty], Rack Netting [Ultra Heavy-Duty] and Skip & Pallet Nets.
Specifications
Dimensions
Sizes Available: 8ft x 5ft, 12ft x 8ft, 15ft x 9ft, 18ft x 12ft or 24ft x 12ft
Material
3mm thick twine with 48mm mesh
Miscellaneous
Color: Green
Tie cords are attached to each corner of the netting
Netting is weatherproof
1 year warranty
Want to chat?
Contact us here and we'll get back to you as soon as possible.
Super fast shipping
Express shipping available
Questions & answers
Ask fellow customers what they think!
Hide Q&As
Questions & Answers
1 question | 1 answer
Do the nets stretch? If I have an 8' by 5' trailer would I need to order a slightly larger size?
Hi John, thank you very much for the enquiry. The nets have elastic ties that allow them to stretch and attach to the bottom of the trailer. The net will stretch slightly and the 8' x 5' net should work fine with the 8' x 5' trailer that you have.
Many thanks,
Grant
You may also like
Heavy Duty Tarpaulins [300gsm]
CA$29.99
Mesh Skip Nets [Ultra Heavy Duty]
CA$64.99
Rack Netting [Ultra Heavy-Duty]
CA$64.99
Cargo Net [Ultra Heavy Duty]
CA$64.99
Ultra Heavy Duty Tarpaulins [500gsm]
CA$49.99