Speed & Agility Soccer Training Ladder
Speed & Agility Soccer Training Ladder

10ft or 20ft Football Agility Ladder With Adjustable Non-Slip Rungs
Flat Plastic Rungs
The flat profile of the fluro yellow rungs greatly reduces the risk of slipping, leaving you with a safe piece of soccer training equipment.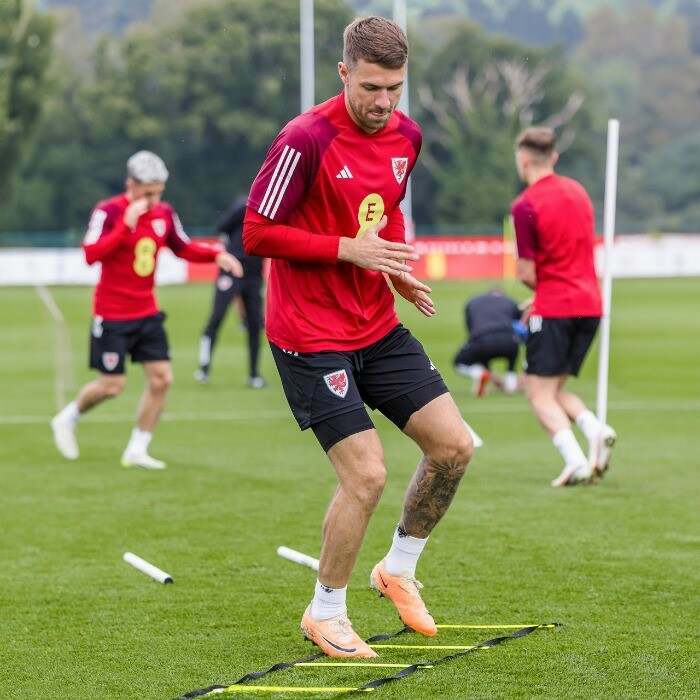 For An Array Of Training Drills
From side shuffles to jumping jack feet, you can use this 16 inch wide speed ladder for a range of intense footwork drills.
Adjustable Gaps
The innovative sliding rungs let you adjust the size of each foot gap, allowing you to tailor this soccer speed ladder to your skill level or age group.
Description
Improve Your Speed & Stamina With Our Soccer Training Ladder
A staple for all soccer training grounds this agility speed ladder will markedly improve your lateral movement, balance and acceleration, ensuring you can always beat defenders. Measuring 16 inches (40cm) wide this agility and speed ladder can be used to perform a wide range of footwork drills including, jumping jack feet, cross overs and single foot hops.
Speed ladder is available in lengths of 10ft (3m) or 20ft (6m).
Anti-slip flat rungs are manufactured from fluro yellow plastic.
Nylon edges can be attached to additional speed ladders to increase length.
Agility ladder gaps can be adjusted to suit all age groups or intensify courses.
10ft (3m) ladder has 6 rungs whilst the 20ft (6m) agility has 12 rungs.
Both speed ladders are 16 inches (40cm) wide.
The inventive design of this speed ladder allows you to slide the fluro yellow rungs up and down the nylon edges. By reducing or increasing the gap between each rung you can make foot work sessions more challenging. Each rung is manufactured from ultra-durable flat plastic which is designed to greatly reduce the risk of players slipping during training sessions. Available in lengths of 10ft (3m) or 20ft (6m), you can attach multiple agility ladders together to increase the length of speed drills.
If you would like to create an even more challenging footwork course, then this speed ladder can be paired with the Net World Sports 5ft Spring Loaded Slalom Training Poles [1 inch] and the FORZA Resistance Speed Chute.
Specifications
Dimensions:
Available in lengths of 10ft (3m) or 20ft (6m)
Width: 16 inches (40cm)
Material:
High-visibility plastic rungs
Nylon edges
Miscellaneous:
Color: Fluro yellow rungs with black edges
Rungs can be slid up or down the ladder edges to adjust the size of foot gaps
10ft (3m) ladder contains 6 rungs
20ft (6m) ladder contains 12 rungs
Flat shaped rungs minimise the risk of athletes slipping
Ladders can be joined together to create a more challenging longer workout
Don't just take our word for it
Arrived exactly as the website describes it in great brand new condition, would definitely recommend for all physical activity and fitness exercises

Great ladder for my son for football training, easy to store too and good value for money he loves it
Want to chat?
Contact us here and we'll get back to you as soon as possible.
Super fast shipping
Express shipping available
Questions & answers
Ask fellow customers what they think!
Hide Q&As
Questions & Answers
1 question | 1 answer
Do u sent a invoice , receipt with the equipment so I can get money tho club thankyou jason batley boys rugby
Hello Jason, thank you very much for the enquiry. Yes, with every order you should receive a copy of the invoice with your confirmation email. If this isn't the case, please email sales@
networldsports.com
and we'll get one sorted for you right away!
Many thanks,
Grant
You may also like
24 x 8 FORZA Alu60 Soccer Goal
CA$1,949.99
FORZA Training Soccer Balls
CA$13.99
10 Water Bottles (25fl oz) & Foldable Bottle Carrier
CA$49.99
FORZA Pop-Up Target Goals
CA$29.99