Roll Down Cricket Matting - 6.5ft Wide (Indoor/Outdoor)
Roll Down Cricket Matting - 6.5ft Wide (Indoor/Outdoor)
13mm Thick Heavy Duty Club Spec Cricket Matting With Non Slip Matting
Portable Cricket Turf
Ideal for schools and clubs this 2m (6½ft) wide cricket carpet can be rolled away after lessons & training sessions. Perfect for users without a permanent pitch.
Hard Wearing Cricket Matting
Manufactured from UV stabalised heavy duty non-slip PVC our weatherproof cricket wicket matting can last up to 20 years under the right playing conditions.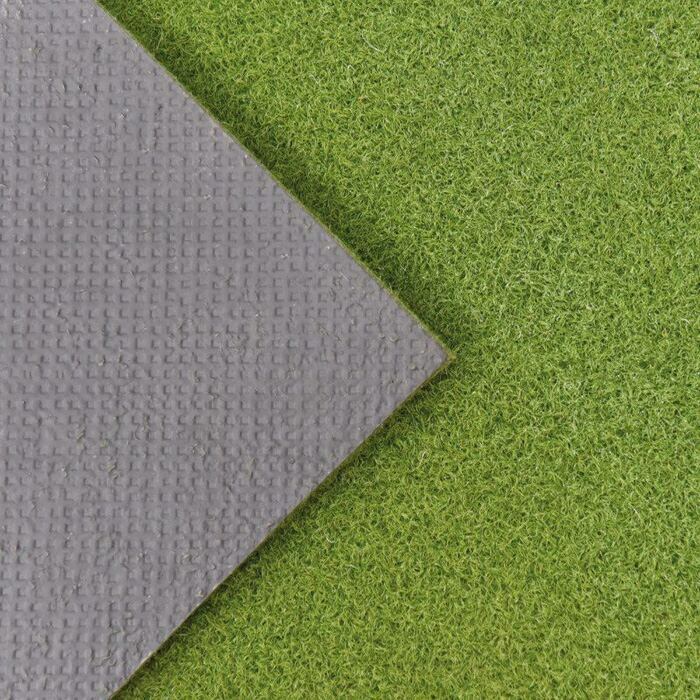 Faithful Ball Bounces
You will feel like you're training on a real cricket pitch due to the shock-pad inside our cricket turf. This pad offers a realistic bounce on any hard & flat surface.
Description
Club Standard Indoor And Outdoor Polypropylene Cricket Wicket Matting
Set up temporary indoor and outdoor cricket fields in seconds with this high-quality roll down cricket matting. Measuring 6.5ft (2m) wide and available in lengths between 3ft (1m) and 98.5ft (30m) you will be able to select a length of roll down cricket matting which will perfectly fit your intended playing area.
Non-slip cricket matting is 6.5ft (2m) wide and available in lengths up to 98.5ft (30m).
Manufactured from UV stabilised polypropylene with a 7mm thick green shock pad.
Green top matting is 6mm thick.
Overall cricket matting thickness is 13mm.
Yarn stitched for increased durability.
The shock pad provides realistic cricket ball behaviour across all surfaces.
Weight 10lbs (4.5kgs) per 11 square feet (1 square metere).
Available in lengths between 3ft (1m) and 98.5ft (30m).
The 13mm thick matting is comprised of two parts to ensure the optimum level of performance is always produced when using this temporary cricket turf. The 6mm thick green section features a shock pad to provide a realistic cricket ball bounce on indoor and outdoor surfaces, whilst the 7mm thick non-slip PVC base of the cricket matting not only provides a high level of player safety, but also does not require any adhesive or fixings to stay in place.
If you do not have the facilities to support a permanent cricket field or need to set up a temporary indoor cricket pitch then this matting can be rolled away for storage after use without any risk of damage. Weighing just 10lbs (4.5kg) per square foot (1 square metere) this cricket carpet is incredibly easy to carry despite the heavy-duty, UV stabilised polypropylene it is manufactured from. This added protection from sunlight makes this custom length cricket matting perfect for outdoor training sessions.
Specifications
Dimensions
Width: 6.5ft (2m)
Length: Available in sizes between 3ft (1m) and 98.5ft (30m)
Thickness: 0.5 inch (13mm)
Material
UV treated polypropylene
7mm non-slip PVC backing
Green 6mm thick matting
Miscellaneous
Cricket matting rolls away for storage
Needle punched yarn for added durability
Weights 4.5kgs (10lbs) per square metre (11 square foot)
For use on indoor and outdoor flat surfaces

PLEASE NOTE: This is a bespoke product and therefore non-returnable
Want to chat?
We're here on

live chat

right now!
Or via phone or email if you'd prefer...
Super fast shipping
Express shipping available
Questions & answers
Ask fellow customers what they think!
Hide Q&As
Questions & Answers
1 question | 1 answer
What kind of surface prep is required for the underlying surface if the mat is to be placed in an open soccer field?
Hello Rashiek, Thank you for your question. The matting can be placed on any flat, hard surface. This allows for a more realistic bounce bounce of the ball. Many thanks, Tom
You may also like
Roll Down (Lightweight) Cricket Matting - 6.5ft Wide (Indoor/Outdoor)
CA$129.99
Run-Up/Surround Cricket Matting - 13ft Wide (Outdoor/Indoor)
CA$159.99
Recently Viewed
FORZA Football Spring-Back Quarterback Mannequins
CA$149.99
Ground Sockets For Soccer Goals [Pair]
CA$99.99
METIS Adjustable Weight Bench [Commercial]
CA$324.99
CosySpa Inflatable Hot Tub Lids [40% Energy Saving]
CA$34.99
Soccer Training Marker Lines
CA$39.99