FORZA Socketed Rugby Soccer Goal Posts [Single or Pair]
FORZA Socketed Rugby Soccer Goal Posts [Single or Pair]

2 IN 1 GOAL SET – DESIGNED WITH REINFORCED ALUMINUM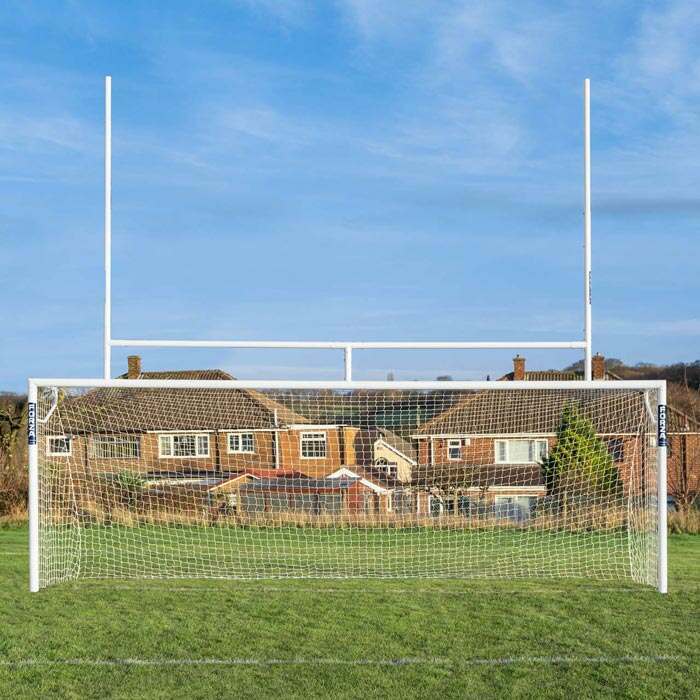 MULTI-SPORT GOAL
Thanks to the multi-sport design, the durable 2 in 1 soccer goal can be used for both regulated rugby & soccer games or training. Rugby uprights are 10ft (3m) above crossbar for conversions.
PREMIUM NETTING
Manufactured with 5mm (0.2in) HDPE premium netting, the soccer rugby goal can withstand high velocity ball strikes for season long use. Steel brackets support net stability.
ULTRA-DURABLE ALUMINUM
The white powder coated aluminum provides perfect protection against all-weather types and ball impact. 2 in 1 goal set can be socketed into the ground for a permanent robust structure.
Description
SOCCER RUGBY GOAL POST – IDEAL FOR SPORTS CENTRES
The regulation sized rugby and soccer goal is ideal for all professional clubs, sports centres and schools, the combined nature ensures the 2 in 1 goal set is versatile for soccer and rugby. The soccer rugby goal available as 24ft x 8ft (7.3m x 2.4), is manufactured with premium 3mm (0.1in) HDPP twine netting. Which is designed with constant impact in mind from a rugby ball or soccer for long-lasting use. The 110mm x 100mm (4.3in x 3.9in) white powder coated aluminum post prevent rust and corrosion, which is essential for outdoor use season after season. Manufactured with a regulated 10ft (3m) high crossbar, the combination soccer and rugby posts are packaged with supports brackets that are created from 32mm (1.3in) zinc plates steel for perfect net stability.
Manufactured with durable 3mm (0.1in) HDPP netting to withstand high velocity ball strikes
White powder coated frame to prevent rust and corrosion for essential outdoor use
Soccer and rugby regulated 2 in 1 goal set is designed for seniors or junior games
Provides a stable & robust structure when socketed into the ground with ground sockets
32mm (1.3in) zinc bracket supports provide net stability and retain shape from ball strikes
Net World Sports offers a wide range of soccer and rugby goal post equipment. For more please browse the Soccer and Rugby categories above.
Please Note: The ground sockets will drop the goal 18 inches into the ground. Sockets require a base which measures 24 inches x 24 inches which is secured with concrete.
Specifications
FORZA Socketed Rugby Soccer Goal Posts Specifications
Dimensions
Senior Goal Post: 24ft x 8ft | 7.3m x 2.4m
Goal Depth: 8ft | 2.4m
Overall Rugby Upright Height: 19.7ft | 6m (from ground)
Regulation Rugby Crossbar Height: 10ft | 3m
Crossbar Height Above Ground: 18ft | 5.5m
Crossbar Width: 18ft | 5.6m
Socket Depth: 46cm | 18.4in
Materials
Soccer Frame & Uprights: Manufactured from heavy duty 100mm x 110mm (3.9in x 4.3in) elliptical aluminum
Reinforced ribs inside aluminum for additional strength
Rugby Frame Crossbar: Made from 75.5mm x 3mm (3.0in x 0.12in) aluminum
Rugby Frame Top Upright: Made from 68.5mm x 3mm (2.7in x 0.12in) aluminum
D-Shaped Rear Net Supports: Made from 38mm x 2.2mm (1.5in x 0.09in) aluminum
Aluminum wall thickness = 3mm (competitor average = 2-2.5mm)
Net: 5mm (0.20in) OD braided HDPE twine, with 50mm knotted mesh size in white
Sockets: Galvanized steel
High tensile stainless nuts, bolts and washers used throughout
Fully welded corner joins throughout for maximum strength & durability
46cm (18.4") deep aluminum ground sleeve sockets with metal lids (requires professional concreting into ground)
Internal connector joints add strength and long lasting reliability
Solid steel support plates are precision cut via laser for an exact fit and are zinc plated to protect against corrosion for long life
Miscellaneous
Weatherproof combination soccer and rugby goal posts
Tough, scratch-resistant powder coated paint finish in optic white
Delivered flat packed and will require assembly (step-by-step instructions included)
Uprights drop 18in into the ground sockets
Sockets need to be set in a minimum 24in x 24in of concrete
Twist & lock-style safety net clips securely attach goal nets into the goal's internal channel
Goal net and safety net clips are UV treated to protect against sunlight
Want to chat?
Contact us here and we'll get back to you as soon as possible.
Super fast shipping
Express shipping available
Questions & answers
Ask fellow customers what they think!
Hide Q&As
Questions & Answers
No one has asked a question yet!
You may also like
24 x 8 FORZA Alu110 Socketed Soccer Goal
CA$2,099.99
24 x 8 FORZA Alu60 Soccer Goal
CA$1,949.99
Freestanding Aluminum Soccer & Rugby Combination Goals
CA$5,899.99
24 x 8 FORZA Alu110 Freestanding Soccer Goal
CA$3,899.99