Portable Soccer Tennis Net [3 Sizes]
Portable Soccer Tennis Net [3 Sizes]

Portable Soccer Tennis Net For Training Sessions & The Backyard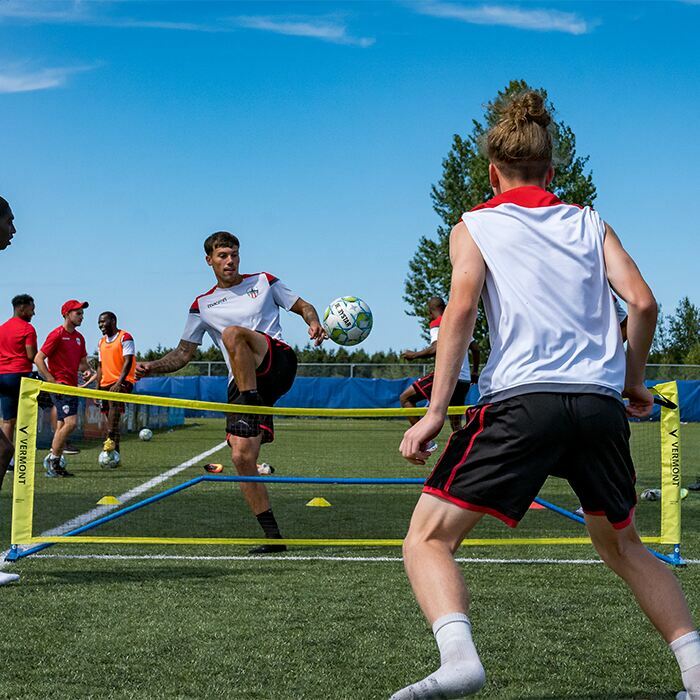 High-Quality Training Tool
An excellent choice for soccer training sessions or some backyard fun, this soccer tennis net is ideal for working on ball control, passing, heading & volleying. Net height can be converted in seconds.
Freestanding Net
This Soccer Tennis Net is 100% freestanding & comes with an exceptionally stable base to allow it to be used on any flat surface. The elite construction allows it to be used both indoors & outdoors.
Simple Storage & Portability
You can take the soccer tennis net wherever you like thanks to the included carry bag. Simple to assemble/take down, the entire net contents can be stored & transported using the bag provided.
Description
Portable Soccer Tennis Net – For Soccer Training Sessions & The Backyard
Guaranteed to bring a whole new dynamic to your soccer training sessions or backyard set-up, this Soccer Tennis Net is a must-have. An excellent way to put your volleying, control, heading & passing skills to the ultimate test, this soccer tennis net can be enjoyed by all ages & abilities. Suitable for indoor & outdoor use, this impressive soccer tennis net is weatherproof to ensure the adverse conditions never get in the way of valuable time out on the training pitch. Assembled in minutes, the soccer tennis net offers different heights for different training drills & comes with a heavy-duty carry bag included for easy storage & portability.
Soccer Tennis Net – An excellent addition to training sessions or the backyard
100% portable & freestanding to allow you to play soccer tennis wherever
Powder-coated steel frame & 6ply PE net offer exceptionally durable performance
Net height can be converted in seconds by addition/removal of 1 pole from either side
Weatherproof & suitable for any playing surface (indoors & outdoors)
Soccer Tennis Net comes with a carry bag included for simple storage & portability
High-quality soccer training tool is available in three lengths; 10ft, 20ft & 30ft
Completely freestanding, the soccer tennis net can be used on any flat surface – indoors or outdoors. Expertly designed to deliver a durable performance, the posts are made up of multiple easy-to-assemble poles which are engineered using premium powder-coated steel. The net, which matches the posts when it comes to strength & longevity, has been crafted using 6ply polyethylene with oxford material banding – offering outstanding resistance towards soccer ball impacts. The heavy-duty carry bag has been created from premium nylon & features rust-resistant metal zips to keep the contents secure during transit & storage.
PLEASE NOTE: This listing is for the Portable Soccer Tennis Net ONLY. For soccer balls, rebounders & other high-quality soccer training equipment, please see the essentials above.
Specifications
Portable Soccer Tennis Net Specifications
Dimensions:
Three Lengths Available: 10ft (3m) | 20ft (6m) | 30ft (9m)
Height 1: 2.6ft | 0.8m
Height 2: 5ft | 1.6m
10ft Weight: 18lbs | 8kg
20ft Weight: 26lbs | 12kg
30ft Weight: 34lbs | 15kg
Materials:
Net Frame: 1mm steel poles (powder-coated)
Net: 6ply polyethylene with a 1in mesh
Net Banding: 210D Oxford Material
Carry Bag: heavy-duty nylon with metal zips to keep contents secure
Miscellaneous:
What You Get: Soccer Tennis Net | Soccer Tennis Posts | Carry Bag | Anti-Slip Pads
To change up the heights, simply add/remove a pole from either side of the posts
Net comes with unique tensioning strap to allow you to simply adjust the tautness of the net
Soccer Tennis Net is freestanding & suitable for any flat surface (indoors & outdoors)
Net can also be used for Mini Tennis, Badminton, Pickleball, Volley & more
Don't just take our word for it
Kids love this product. Worth the value when kids are having fun. They use it for soccer tennis ,volley ball and anything else that they can figure out.Very well made,stromg and sturdy.
Want to chat?
Contact us here and we'll get back to you as soon as possible.
Super fast shipping
Express shipping available
Questions & answers
Ask fellow customers what they think!
Hide Q&As
Questions & Answers
1 question | 1 answer
Q - will this fit in the boot of a car? Q - Set up time?
Hi Steven,
Thank you very much for your inquiry. The set up of this would take approximately 10 minutes to set up and could fit in an average sized boot. If you have any further questions, please contact us at sales@
networldsports.com
.
Kind regards, Will
You may also like
Soccer Goal Target Sheets
CA$34.99
Speed & Agility Training Ladder
CA$14.99
FORZA Pro Soccer Training Pinnies [5 - 15 Packs]
CA$14.99
FORZA 6ft Spring Loaded Slalom Training Poles [1.5"]
CA$99.99
Recently Viewed
FORTRESS Baseball Sock Net Replacement
CA$79.99
FORZA Pro Soccer Training Pinnies [5 - 15 Packs]
CA$14.99
10 x 10 x 10 Golf Net Insert For Batting Cages [Ultra Heavy Duty]
CA$199.99
METIS Adjustable Squat Rack
CA$169.99
FORZA Mini Target Goal
CA$74.99