FORZA 6ft Spring Loaded Slalom Training Poles [1.5"]
FORZA 6ft Spring Loaded Slalom Training Poles [1.5"]
Improve Speed And Agility With These 6ft Spring-Loaded Slalom Poles
Spring Loaded For Safety
Coiled springs allow these slalom poles to bend in any direction when struck, greatly reducing the risk of injury on the training ground.
For Use On Grass Fields
Each pole is fitted with a long ground spike which allows you to easily position them on any grass pitch for the duration of your training session.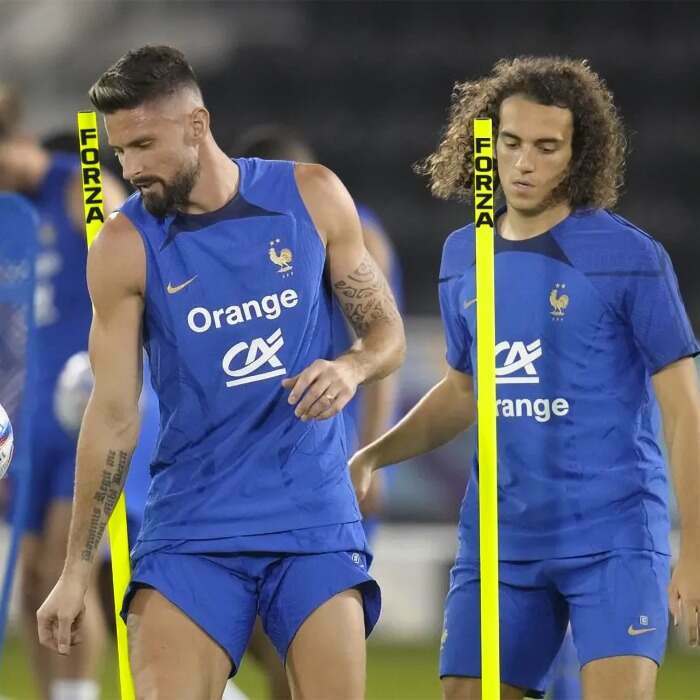 Shatterproof Plastic Poles
Manufactured from 1.5in thick shatterproof plastic these poles are more than capable of absorbing the force of an athlete running at full tilt.
Description
6ft Tall Spring-Loaded Slalom Poles Manufactured From Shatterproof Plastic
Create intense training courses designed to improve speed, agility and balance across a range of sports with these 6ft (1.8m) tall spring-loaded slalom poles. Each pole is manufactured from 1.5 inch (34mm) thick shatterproof plastic which is florescent yellow in color, providing you with an extremely safe piece of training equipment.
Spring-loaded slalom poles are available in packs of 8 or 16.
Each agility pole stands at a height of 6ft (1.8m).
Coiled springs allow the training poles to bend in any direction for safe training sessions.
Manufactured from 1.5 inch (34mm) thick shatterproof plastic.
Florescent yellow in color to stand out on the training field.
Stainless steel ground spikes deeply root the agility poles in position.
With safety at the forefront of the design these slalom poles are constructed with high-quality springs which are placed at the bottom of each pole. This innovative design allows the poles to bend in any direction when struck, helping to reduce the risk of injuries suffered on the training ground. This spring sits above the slalom poles' long stainless-steel ground spikes which deeply plant each pole in position throughout training sessions, preventing the need to constantly replant each agility pole.
Available in packs of 8 or 16 these slalom poles are designed to for grass surfaces but can also be used on hard surfaces such as AstroTurf when combined with the Slalom Pole Rubber Base [5lbs] sold separately. These heavy-duty bases do not hinder any of the safety benefits the agility poles provide, whilst keeping hard surfaces such as sports hall floors pristine during winter training sessions.
Specifications
Dimensions
Pole height: 5.6ft | 172cm
1.5 inches (34mm) thick
Material
Shatterproof plastic
Stainless steel ground spikes
Miscellaneous
Sold in packs of 8 or 16
Spring-loaded bases minimise the risk of injury
Color: Florescent yellow
Compatible with the Slalom Pole Rubber Base [2.3kg] (sold separately)
Don't just take our word for it
I'm not sure if it's the way the poles are designed or if it was due to shipping but it appears that there is some add discoloration at the bottom of the pole where it attaches to the spring.
Excellent product, perfect for agility training
Excellent service, and delvery
Want to chat?
Contact us here and we'll get back to you as soon as possible.
Super fast shipping
Express shipping available
Questions & answers
Ask fellow customers what they think!
Hide Q&As
Questions & Answers
No one has asked a question yet!
You may also like
FORZA Lunar Match Soccer Balls
CA$34.99
FORZA Resistance Speed Chute
CA$14.99
FORZA Pro Soccer Training Pinnies [5 - 15 Packs]
CA$14.99
Speed & Agility Training Ladder
CA$14.99