Replacement Ratchet and Straps for Stadium and Freestanding Box Goals
Replacement Ratchet and Straps for Stadium and Freestanding Box Goals
The Ultimate Soccer Box Goal Net Support System
Simple To Adjust
This ratchet system allows the tautness stadium box goal net to be easily adjusted from the back stanchions.
Attaches Easily To Net
The straps supplied within this ratchet set are fitted with electroplated carabiners that allow for easy attachment to the goal net.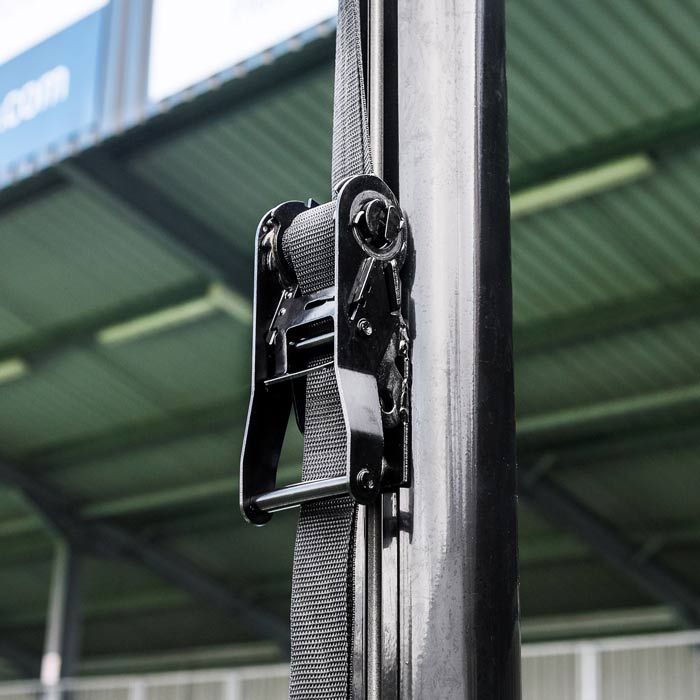 Complete Ratchet Winch Set
This package includes 1x ratchet, 1x 15ft strap with electroplated carabiner and 1x 21ft strap with electroplated carabiner to ensure your nets meet all regulations faster.
Description
High-Quality Replacement Ratchet Winch and Strap Set
Ensure your goals stay taut season after season with this high-quality ratchet and strap system. Manufactured from ultra-durable materials, this net support system is designed to perform in the worst of weather conditions. Featuring a heavy-duty steel ratchet, woven ratchet straps and electro plated carabiners, this net ratchet system ensures that your soccer goal net remains taut season after season.
Features 21ft (6.5m) and 15ft (4.5m) ratchet straps with attached carabiners
Carabiners have been electroplated for additional durability
Set includes 1 heavy-duty ratchet to ensure net tautness
Suitable for use with socketed and freestanding stadium box goals
Feature ratchet fix plate for easy attachment to stanchions
With straps fitted with electroplated D-rings and supplied with a heavy-duty ratchet system, this net tension kit is suitable for use all year round no matter the weather. The heavy-duty ratchet system is manufactured from robust steel and features a back-fixing plate for easy attachment to soccer goal stanchions. The straps are supplied in 21ft (6.5m) and 15ft (4.5m) lengths and are manufactured from a high-strength woven material for optimal net support.
The featured electroplated carabiners provide unrivalled durability to ensure your net remains taut throughout the game. This net support winch ensures that freestanding and socketed box soccer goals do not rebound balls and effectively show the ball being scored. Available in black, this stanchion net support system is sure to meet your every need and requirement.
Specifications
Dimensions
1x 21ft (6.5m) woven strap with electroplated carabiner hook
1x 15ft (4.5m) woven strap with electroplated carabiner hook
Materials
Ratchet – Black powder coated steel for enhanced longevity and strength
Straps – Strong woven polyethylene terephthalate
Carabiner – Electroplated steel for extra durability
Miscellaneous
Designed for use with freestanding and socketed box soccer goals
Features steel fixing plate for easy stanchion attachment
Available with a black powder coat finish
Don't just take our word for it
Arrived in less than 24 hours
Want to chat?
Contact us here and we'll get back to you as soon as possible.
Super fast shipping
Express shipping available
Questions & answers
Ask fellow customers what they think!
Hide Q&As
Questions & Answers
No one has asked a question yet!
You may also like
Soccer Goal Net Stanchions - 80mm Aluminum
CA$289.99
FORZA Stadium Goal Conversion Kit [Pair]
CA$1,499.99
Custom Stadium/Box Soccer Goal Nets [Any Colour!]
CA$699.99
24 x 8 FORZA Alu110 Freestanding Stadium Box Soccer Goal
CA$5,599.99
FORZA Soccer Post Protector Padding
CA$99.99