FORZA Professional FIL Lacrosse Goal [6 x 6]
FORZA Professional FIL Lacrosse Goal [6 x 6]

Professional FIL Lacrosse Goals For Training or Matchday Use
Heavy-duty Goal Posts
The 50mm diameter frame is manufactured from ultra-durable galvanised steel which will not falter or show signs of wear after being struck by lacrosse balls.
FIL Regulation Lacrosse Goals
Designed to be used by both professional players and amateurs these 6ft x 6ft regulation lacrosse goals conform with all regulations set by the FIL.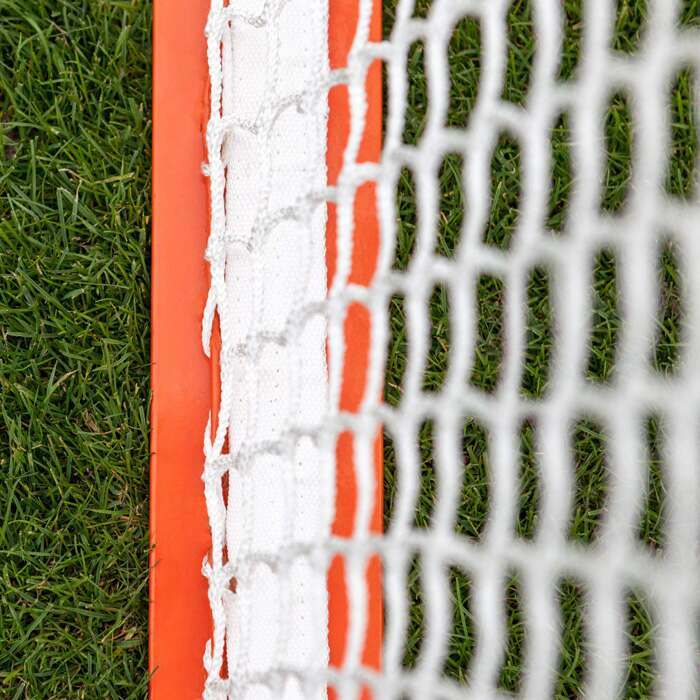 Premium Quality Lacrosse Net
Features a thick 6mm polyester goal net that can easily attach to your FORZA lacrosse goal posts due to the integrated stringing rails.
Description
Heavy-Duty Professional Lacrosse Goals That Meet FIL Regulations
Upgrade your field and matchday equipment with this professional FORZA 6ft x 6ft lacrosse goal. Designed with hard-wearing materials that ensure durability, this high-quality lacrosse goal is ideal for competitive games at any level. Each FIL regulation lacrosse goal gives your team stability and reliability whilst also providing a level of professionalism to any field. Featuring official welded square corners on a galvanised steel frame and a vibrant orange powder coating, this lacrosse goal post has been engineered to deliver high performance on any gameday regardless of the weather.
Professional size 6ft x 6ft (1.8m x 1.8m) lacrosse goals.
The goal's frame is manufactured from 2 inch (50mm) thick, powder coated galvanised steel.
Welded stringing rails and lacing bars run across the goal's frame for easy net attachment.
The professional polyester lacrosse net is 6mm thick with mesh squares.
Designed to be used during all professional Men's and Women's FIL standard lacrosse games and training sessions.
Fast assembly with no tools required.
Available individually or as a pair of professional lacrosse goals.
This FORZA professional lacrosse goal is supplied with a high-quality 6mm white regulation polyester net with mesh squares. These small mesh squares are specifically designed with 5/8-inch measurements in order to perfectly capture and secure fast paced lacrosse balls, whilst the extra deep goal mouth prevents balls from rebounding back into play. Due to the nets special impact absorbing properties, the regulation lacrosse net will not tear or fray under repeated heavy contact from lacrosse balls. This official lacrosse goal also features a reinforced border which provides additional security and strength to the net.
The high-quality lacrosse net has been designed to easily attach to the welded rails that are positioned along the entirety of the 6ft x 6ft (1.8m x 1.8m) goal frame. Whether the premium lacrosse goal is being used for training or for matchday purposes, the FORZA lacrosse goal is very simple to assemble and disassemble without tools. Although this FIL approved Lacrosse goal is simple to build, the posts remain robust thanks to the 2 inch galvanised steel frame. This thick frame ensures that your goal will remain in one place throughout the game even with consistent scoring.
Net World Sports also supplies high-quality training equipment for professional lacrosse players designed to improve their all-around game including the high-quality lacrosse goal target sheet and RapidFire Lacrosse Rebound Net.
Specifications
Professional Lacrosse Goal Dimensions
Height x Width: 6ft x 6ft (1.8m x 1.8m)
Frame diameter: 2 inches (50mm)
Materials
Goal frame: Powder coated galvanised steel
Net 6mm thick polyester with 5/8 inch mesh squares
Miscellaneous
This lacrosse goal can be used in all professional matches
Welded stringing rails tightly attaches the net to the goal
No tools required for assembly
Available individually or as pair
FIL Approved
Don't just take our word for it
The lacrosse goal is sturdy and well-constructed. The netting is tightly woven and securely attached to the frame. Great buy.
Want to chat?
We're here on

live chat

right now!
Or via phone or email if you'd prefer...
Super fast shipping
Express shipping available
Questions & answers
Ask fellow customers what they think!
Hide Q&As
Questions & Answers
No one has asked a question yet!
You may also like
Portable Multi-Sport Hitting Net [7ft x 7ft]
CA$99.99
FORZA Lacrosse Rebounder Net
CA$324.99
STOP THAT BALL™ [Lacrosse Edition] – Ball Stop Net & Post System
CA$229.99