22mm Golf Impact Ball Stop Netting [Standard Size]
22mm Golf Impact Ball Stop Netting [Standard Size]
Custom Length Golf Practice Netting Available In Black Or Green
Weatherproof Construction
Made to be used both in and outdoors, this golf practice netting is manufactured from rot and UV-resistant twine. This premium manufacturing ensures your netting will not corrode after heavy rainfall or prolonged exposure to UV rays.
2.3mm Knotless Mesh
Tailor-made for golf courses, driving ranges and garden golf cages, this golf course safety netting is fabricated from 2.3mm knotless twine with 22mm mesh. These small squares guarantee no golf ball can escape your golf netting, therefore providing complete spectator safety.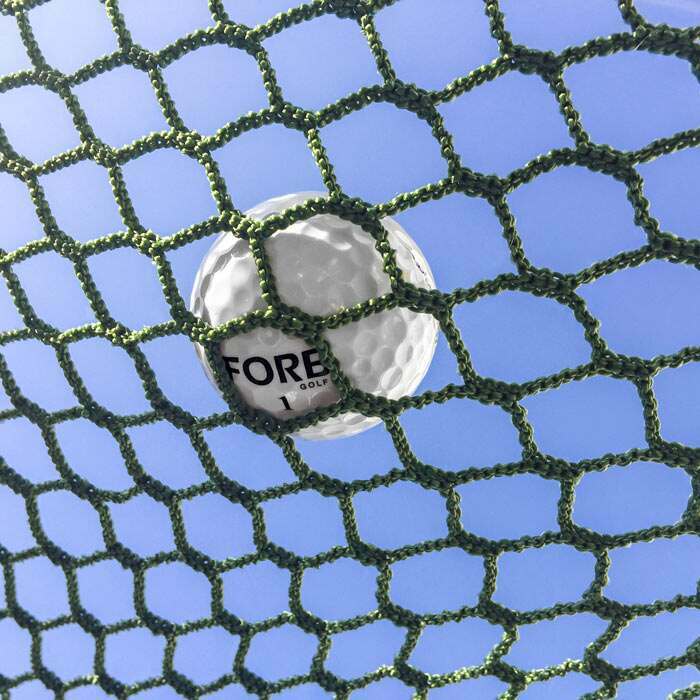 Heat-Sealed Edges
To negate the risk of this golf practice netting fraying after intensive use, its heat sealed are machine stitched with 4mm HDPP twine. This heavy-duty construction creates a golf course perimeter net which will not become unravelled.
Description
Rot-Resistant Golf Impact Netting Manufactured From Knotless UV Treated Twine
Manufactured with 22mm mesh squares, the netting for golf is specifically designed to stop all golf balls in their tracks, in turn protecting both spectators and the surrounding area from any potential golf ball related damage. Suitable for indoor and outdoor usage, this black or green golf impact netting is rot resistant and UV treated. These hard-wearing features work together to guarantee continuous exposure to intense sunlight will not cause your golf netting to corrode.
This golf impact netting is fabricated from 2.3mm knotless HDPP twine with 22mm mesh
Ultra-durable heat-sealed edges
Machine stitched 4mm HDPP border rope lessens the risk of this net fraying
Golf netting is rot proof and UV treated
Available in heights of 10ft, 12ft or 20ft (3m, 3.7m or 6.1m)
Netting color: Black or green
To select the length of your netting please manually enter your desired length into the "length box"
Incredibly durable, this golf netting is fabricated from 2.3mm thick HDPP twine which features 4mm machine-stitched border edges. This heavy-duty construction ensures your custom length golf netting is easy to install without compromising on strength. Further increasing this golf practice netting's durability are heat-sealed edges. This innovative manufacturing technique ensures your driving range netting will not fray over time.
Made to meet your exact requirements, this golf impact net is available in three heights with a completely customizable length. The versatile nature of this golf impact netting ensures it can be used as driving range surround netting or as a replacement net for your garden golf practice cage.
Please Note: You will need to manually enter the exact length of golf impact netting you require.
Specifications
Golf Impact Backstop Netting Specifications
Dimensions
Heights available: 10ft, 12ft or 20ft | 3m, 3.7m or 6.1m
Materials:
2.3mm braided knotless HDPP twine with 22mm mesh
Machine stitched 4mm HDPP border rope
Miscellaneous
Golf impact netting is UV treated and rot proof for all-weather performance
Heat-sealed edges prevent potential fraying - top & bottom only
Breaking point: 56kg | 124lbs
Don't just take our word for it
The netting in our club warmup area was worn and needed replacing. A quick search in google took me to the networld sports website and the price seemed reasonable so we ordered. The netting arrived promptly and has breathed new life into the cages. Highly recommend
I bought this netting for my home setup and it has been great
Want to chat?
We're here on

live chat

right now!
Or via phone or email if you'd prefer...
Super fast shipping
Express shipping available
Questions & answers
Ask fellow customers what they think!
Hide Q&As
Questions & Answers
11 questions | 11 answers
Hi Is this net strong enough to be used for 10'&10' custom hammock and if not do you guys make anything for that use. Thanks
Hi Abraham, thank you very much for getting in contact. Unfortunately, we do not suggest any of our ents for this use as we simply cannot guarantee that they will hold up when being used like this.

Can I use this net to drive balls into, so I can practice at home.
Hi Tom, thank you for the enquiry. Yes, I can confirm that this netting is designed for this type of use.
Many thanks,
Grant
So if I was to request a 10 x 15' piece of netting, it would come in one piece?
Hi Jake, thank you very much for the enquiry. Yes, that is correct, it would come in one piece however, if you would like it cut into smaller lengths, for example: Quantity 3: 10' x 5' pieces.
Many thanks,
Grant
Hi Roger, thanks for getting in touch. Yes we do, we are able to ship our products all over the world. To calculate a shipping cost, please add the items you would like into the basket and proceed to the checkout stage. Many thanks, Adam
Price showns on <a href="http://networldsports.ca" target="_blank">networldsports.ca</a> in CAD or USD? Thanks!
Hi Nat, thank you very much for taking the time to ask us a question. I can confirm that the prices shown on
www.networldsports.ca
are all in Canadian Dollars.
Many thanks,
Grant
I see that this is 20ft high. What is the dimensions of this netting?
It's says 10 ft in height but what is the width?
Hi Chris, Thank you for your question. Once the height has been selected you then manually type in or click on the small up and down arrows to select the length you would like it to be. Many thanks, Tom
Hi. Our home is on a golf course and abuts a fairway. Our backyard is 60 yards from the tee. We need to tightly stretch netting between two trees to protect our children in the back yard from errant drives. Would this netting work for that?
Hi Sarah, thank you very much for taking the time to get in touch. Yes, this or our 28mm golf netting will both be perfect for this use. If you have any questions in regards to either type of netting, please do cntact us on sales@
networldsports.com
and we'll be more than happy to assist you further with this.
Many thanks,
Grant
Hi Doug, thank you very much for taking the time to contact us. On this product, the length of this can be customized to your requirements. All you have to do is enter your desired length in the length box on the right hand side of the listing.
Many thanks,
Grant
Hello Terry, Thank you for your question. Once you have selected the options including colour, unit and height you can then input the length. You can then type in any length that you would like. Please be aware that some heights do have a minimum order. Many thanks, Tom
Can you order it with a frame??
Hello, thank you very much for the enquiry. Yes, we provide this netting with any of our golf cages. For more information, please email sales@
networldsports.com
.
Many thanks,
Grant
You may also like
Portable Multi-Sport Hitting Net [7ft x 7ft]
CA$99.99
FORB Golf Course Flags [4 Pack] - 8x Colors
CA$24.99
FORB Golf Auto Putt Returner
CA$19.99
Cable Ties for Sports Nets
CA$9.99
Recently Viewed
Harrier Luxury Giant Tumble Tower Game [5FT]
CA$129.99
FORZA Soccer Target Net & Ball Bag
CA$49.99
16 x 7 FORZA ProFlex Pop Up Soccer Goal
CA$289.99
FORZA Rugby Kicking Tee
CA$12.99
FORTRESS Abdo Guard
CA$14.99