FORZA Club Stadium Soccer Goal Package [UEFA Standard]
FORZA Club Stadium Soccer Goal Package [UEFA Standard]
UEFA STANDARD BOX GOAL PACKAGES WITH PREMIUM 5MM BRAIDED NETS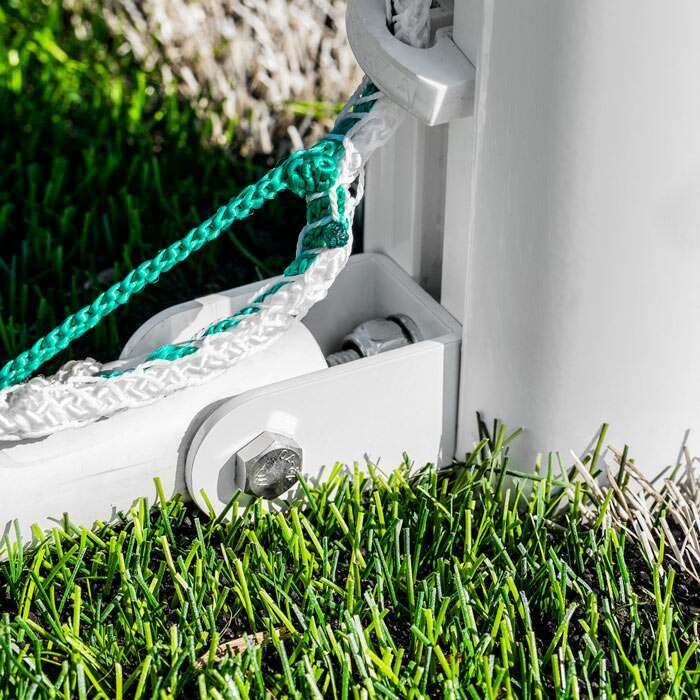 Hinged Bottom Bar
Stadium goal packages feature a hinged bottom bar that weighs the soccer net down but can also be lifted for pitch access during ground maintenance.
Free Hanging Goal Nets & Supports
These stadium goal packages include aluminium free hanging net supports supplied with a ratchet and strap system to keep the net taut.
UPGRADE TO FIFA SPEC GOAL
If you are looking to have a FIFA spec goal that has been installed at clubs such as Manchester United & Newcastle United, please click here.
Description
STADIUM GOALS - 2 STADIUM GOAL PACKAGES FOR YOUR SOCCER CLUB
Stadium Soccer Goal Packages available for your soccer club. Whether you are a semi-professional or top tier soccer club, choose between our Club & Pro Stadium Goal Packages to find the right setup for your club. The Club Stadium Soccer Goal Package has been installed in various stadiums that have hosted Champions League and even Premier League action. The package consists of a crossbar supplied in multi-sections, standard hinged frame, net supports and ratchet tension system. The Pro Stadium Soccer Goal Package allows your goals to comply with FIFA & UEFA international tournament regulations, suitable for hosting a soccer match at any level. This package provides you with a 1-piece crossbar, upgraded hinged frame, net support, ratchet/wire tension system and rear net support safety pads as standard. The nets for both packages are available in White, Black, Blue, Green, Orange, Red, Yellow, Blue/White, Green/White and Red/White.
FORZA Stadium Soccer Goal Packages – Full Stadium Goal Package for 24 x 8 goals
Choose between the Club Stadium Package and FIFA/UEFA Elite Stadium Package
Club Stadium Goal Package features a standard hinged frame, net supports & ratchet tension system
Elite Stadium Goal Package boasts upgraded hinged frame, net supports and ratchet/wire tension systems
In both packages, the goals are available as a single/pair and nets available in a wide range of colors
Specifications
Club Stadium Soccer Goal Package Specifications
DIMENSIONS:
Soccer goals are full size 24ft x 8ft (7.3m x 2.4m) with a 6ft (1.8m) runback
MATERIALS:
Goal posts made from 100mm (3.9in) x 110mm (4.3in) elliptical reinforced aluminum, powder coated white for corrosion resistance
457mm (18in) deep zinc plated steel ground sockets
Each socket needs to be professionally set into minimum 0.6m x 0.6m x 0.6m (24in) of concrete into the ground (concrete not included)
33mm (1.3in) galvanised steel hinged bottom net frame weighs box net to the ground
80mm (3.1in) aluminum free hanging net supports are powder coated black
Each goal comes with a heavy duty 5mm braided UEFA box net
MISCELLANEOUS:
Goals are independently tested to BS EN 748 safety standards and comply to FA, UEFA and FIFA regulations
Product will be delivered 'flat packed' and will require assembly
Don't just take our word for it
Amazing football goal package! Sturdy construction and easy setup.
Want to chat?
Contact us here and we'll get back to you as soon as possible.
Super fast shipping
Express shipping available
Questions & answers
Ask fellow customers what they think!
Hide Q&As
Questions & Answers
No one has asked a question yet!