3m x 2m FORZA Futsal Soccer Goal Post
3m x 2m FORZA Futsal Soccer Goal Post

3m x 2m PVC Futsal Soccer Goal - Backyard Goal For Futsal Games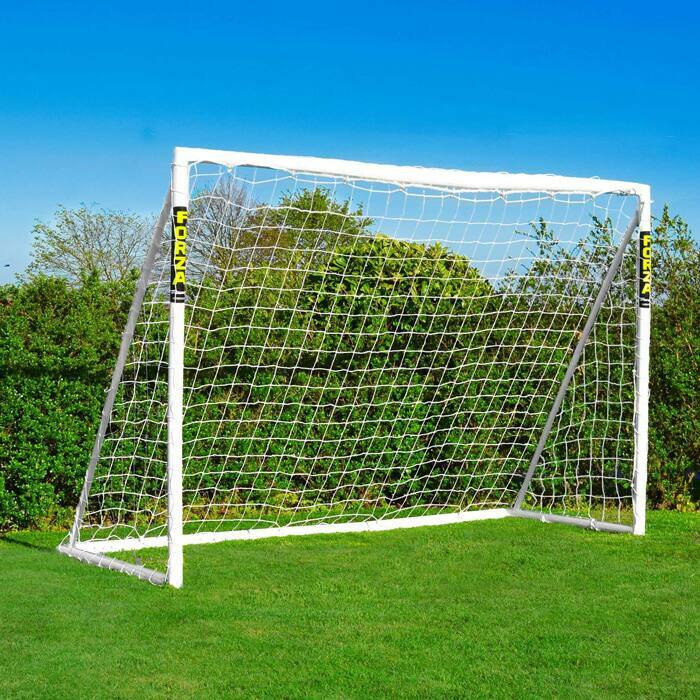 PVC Futsal Goal
Regulation sized 3m x 2m soccer goal for futsal. Made from hard-wearing PVC, the long-lasting futsal goal is perfect for use as a backyard goal.
Essential Locking System
Every FORZA goal has an essential locking system which keeps the goal frame strong and secure, absorbing impact from the hardest of hits.
Quick and Easy Goal Assembly
The FORZA futsal goals are ready for action in minutes, and once they are built they can be left up in the backyard in all weather conditions.
Description
3m x 2m FORZA Futsal Soccer Goal Post - Regulation Sized PVC Backyard Futsal Goal
There's no better way of bringing the fast-paced game of futsal to the backyard than with this 3m x 2m FORZA futsal soccer goal. There are many differences between futsal and soccer, one of which being the size of the goals. 3m x 2m is the internationally recognised size regulation for futsal goals and having been made from weatherproof PVC with an essential locking system, this futsal goal is perfect for small-sided matches in the backyard.
3m x 2m official regulation sized soccer goal for futsal, suitable for use as a smaller sized backyard goal
Futsal goal comes equipped with an essential locking system which enhances the stability and strength
The futsal soccer goal can be assembled quickly and easily, taking minutes for the full assembly process
Weatherproof uPVC futsal goal posts which are durable enough to take the impact of ball collisions
Includes a hard-wearing 2mm UV stabilized twisted goal net which is rot-proof and weather-resistant
Made using high-strength PVC, the futsal goal frame is incredibly sturdy and capable of handling countless backyard futsal matches and training sessions. The fully weatherproof uPVC soccer goal for futsal can be left entirely set up throughout the year without falling foul to rust and corrosion associated with bad weather. Maintaining their pristine design throughout use, the 3m x 2m futsal soccer goal is perfect as an all-weather backyard goal for kids. The 2mm HDPE twisted goal net is equally adept at handling inclement conditions, having been UV treated for a weatherproof finish.
An innovative feature unique to FORZA backyard goals, the essential locking system keeps the futsal soccer goal posts securely connected under the weight of heavy collisions. The robust PVC frame bonds together, maintaining the integrity of the goal, enhancing its ability to perform at high levels for years to come. The essential locking system gives the freestanding 3m x 2m futsal soccer goal a hard-wearing design while remaining light in weight for perfect portability. Capable of being utilized on a variety of surfaces, this is the best PVC soccer goal for futsal.
The entire assembly process of the 3m x 2m futsal soccer goal only take minutes to complete. You'll have a fully set up futsal backyard goal for kids in the blink of an eye, offering convenience and ease of assembly that can't be beaten. The versatile soccer futsal goal can be used to learn fundamental skills and attributes as well as an alternative family goal. Comprising of an essential locking system, highly robust PVC posts and a twisted HDPE UV treated goal net, as well as net clips and u-pegs, everything you need for futsal games in the backyard has been included to provide the ultimate soccer goal for futsal.
PLEASE NOTE - This 3m x 2m FORZA Futsal Soccer Goal Post is a part of the entire FORZA Soccer Goal family. There are several sizes of high quality essential locking system backyard soccer goals to choose from, which can be located here.
Specifications
Dimensions:
• Goal Size (Length x height): 10ft x 6.5ft / 3m x 2m
• Bottom depth of 4ft (1.22m)
Material:
• 2mm UV stabilised HDPE football net supplied with every goal
• Futsal net has reinforced edges
• The frame is made from strong uPVC
Miscellaneous:
• Comes with a 1 year warranty
• Package size (Length x width x height): 117cm x 27cm x 20cm
• Weight of package: 13kg / 28lbs
Don't just take our word for it
Easy to put together for me and I'm 12
Good quality good price
There's not much more you could want
Good item easy to put together
well built easy to errect
Quality goals worth the money
Want to chat?
Contact us here and we'll get back to you as soon as possible.
Super fast shipping
Express shipping available
Questions & answers
Ask fellow customers what they think!
Hide Q&As
Questions & Answers
1 question | 1 answer
Can this goal be used indoors?
Hi Trish, yes, this goal can be used indoors however, it may slide on smooth surfaces so, you may need need to use sandbags or an alternative to weigh the goal down to prevent this.
Kind regards,
Grant
You may also like
3m x 2m FORZA Match Futsal Goal Post
CA$279.99
10 x 6 FORZA Alu60 Futsal Goal
CA$809.99
Freestanding STOP THAT BALL™ - Ball Stop Net & Posts [10ft High]
CA$229.99
3m x 2m FORZA Alu110 Freestanding Futsal Soccer Goal
CA$2,499.99
3m x 2m FORZA Alu110 Socketed Futsal Soccer Goal
CA$1,374.99
Recently Viewed
Freestanding Portable Sports Ball Trolley [20/40 Balls]
CA$229.99