FORZA Glass Basketball Backboard & Hoop [Wall Mounted]
FORZA Glass Basketball Backboard & Hoop [Wall Mounted]
HEAVY-DUTY BASKETBALL UNIT FOR SCHOOLS & LEISURE CENTRES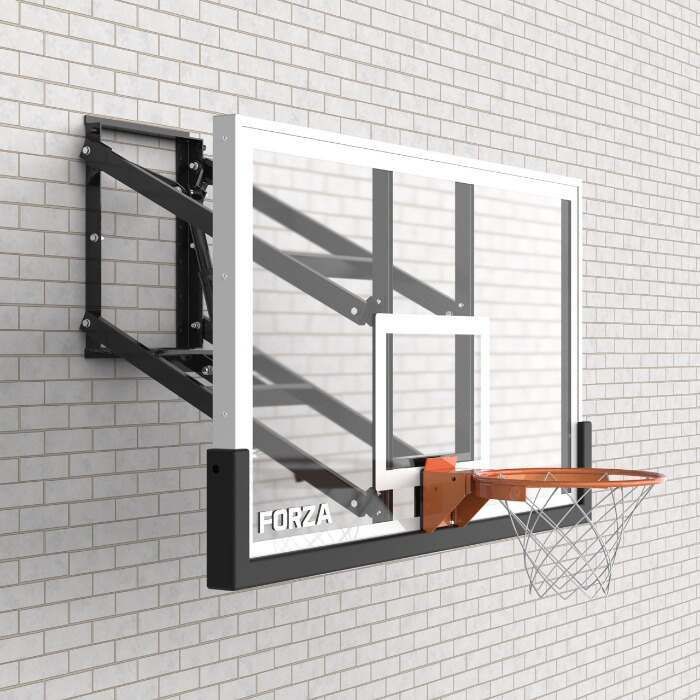 ADJUSTABLE BACKBOARD HEIGHTS
The basketball unit can be adjusted between heights of 6ft - 10ft for various ages & abilities which ensures maximum use for training or coaches.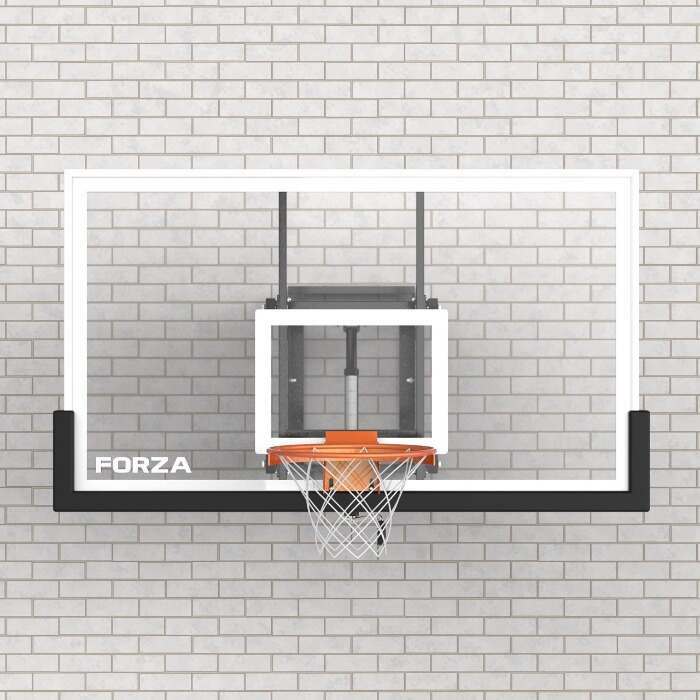 PERFECT FOR COMPETITIONS
Ideal for leisure centres, clubs & schools, the durable basketball backboard & hoop is also suited to competition use and official outdoor/indoor games.
Professional Tempered Glass
The high-quality 0.5in tempered glass provides NBA/FIBA match-like rebounds. Glass is scratch resistant & prevents fog & fading unlike plastic.
Description
Adjustable Basketball Hoop – Glass Backboard For Game-like Responsiveness
Ideal for homes, schools, & leisure centres the wall mount basketball hoop offers a professional grade wall mounted glass backboard system. Manufactured with high-quality tempered glass, the wall mounted basketball hoop provides players with optimum ball responsiveness for game-like rebounds, bank shots & lay-ups. Boasting an adjustable height wall mount system for a more well-rounded practice game, the basketball backboard is ideal for various heights & abilities to develop their basketball game. Thick edge pads provide upgraded stability. A flex double sprung rim is featured to allow players to work on their dunking technique. The basketball hoop is designed with easy installation in mind & can be assembled indoors or outdoors. Sizes available: 54in x 36in (137cm x 91cm), 60in x 38in (152cm x 97cm) & 72in x 36in (183cm x 107cm).
Thick 3/8in tempered glass ensures excellent ball responsiveness & is shatterproof
Glass backboard provides a more game-like ball trajectory for multiple shot types
A double sprung rim is featured to execute dunking technique – 330lbs weight limit
Simple installation allows backboard to be easily located - Suited to indoors & outdoors
Basketball hoop & backboard is ideal for schools, leisure centres & homes
Net World Sports offers a wide range of Basketball Equipment. For more, please see the essentials above.
Specifications
FORZA Glass Basketball Backboard & Hoop [Wall Mounted] SPECIFICATIONS
DIMENSIONS:
54in x 36in | 137cm x 91cm
60in x 38in | 152cm x 97cm
72in x 42in | 183cm x 107cm
Weight: 116kg, 123kg & 140kg | 256lbs, 272lbs & 309lbs
Adjustable heights: 6ft - 10ft | 1.8m - 3m
Glass thickness: 0.5in | 13mm
Edge pads thickness: 1in | 25mm
3ft (91cm) overhang from wall
MATERIALS:
Tempered glass backboard
Welded heavy-duty steel frame
Steelwork is electro zinc plated & powder coated
Powder coated steel breakaway ring
0.2in (5mm) braided nylon net
1in (2.5cm) high density backboard padding
Stainless steel hardware & fittings
MISCELLANEOUS:
Scratch resistant glass
Simple handle adjustment for correct height
Includes height sticker for precise height measurements
Includes breakaway rim suited to dunking
Single piece metal connector prevents hand injuries
Important Information / Please Note: This unit requires you (the customer) to install the basketball unit onto a suitable wall that is strong and stable at all times. The wall must be suitable to drill into & support the weight of the unit + additional weight of an adult slam dunking the unit. We strongly advise getting an expert sports contractor to carry the installation to ensure the unit is safe and secure at all times. Net World Sports Ltd and its directors cannot be held liable for damage, injury, death caused by incorrect installation.
Want to chat?
Contact us here and we'll get back to you as soon as possible.
Super fast shipping
Express shipping available
Questions & answers
Ask fellow customers what they think!
Hide Q&As
Questions & Answers
No one has asked a question yet!