Boundary Pole Base [4 Pack] - 1.4kg
Boundary Pole Base [4 Pack] - 1.4kg
DURABLE RUBBER BASES – SUITED TO MARKING PITCHES
MULTI-SURFACE DESIGN
Manufactured durable moulded rubber, the base weights are suited to grass, indoor & 3G/4G surfaces for multi-surface grip.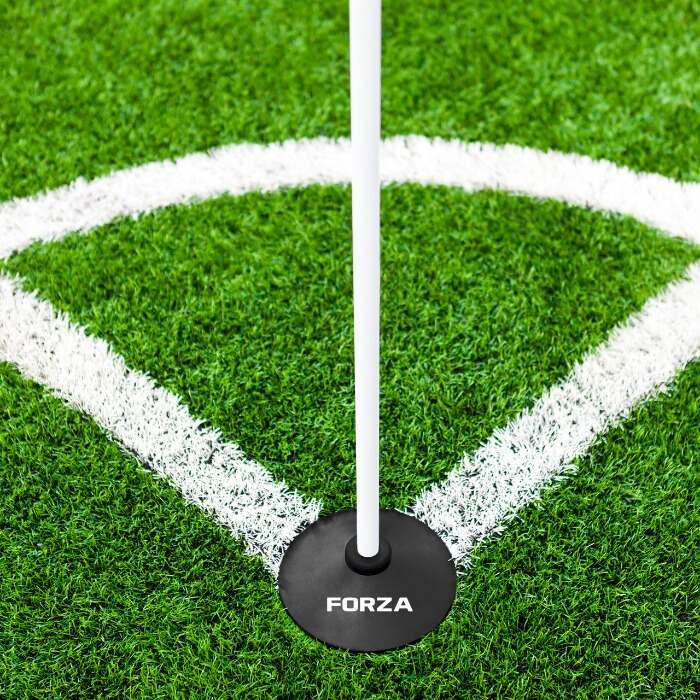 PERFECT FOR MARKING
The rubberized bases are perfect for marking pitch/playing areas or specific playing zones for games or training sessions.
ROBUST RUBBER BASES
The pack of 4 bases weigh 1.4kg (3lbs) to withstand constant use & harsh weather conditions for essential outdoor use all-year round
Description
Pack of 4 Heavy Rubber Pole Bases for Training
These rubberized bases are great for use on a massive range of surfaces, from indoor sports halls to tarmac and grass pitches.
With a traditional dome shape which prevents tripping, 1.4kg boundary pole base can hold a 20mm diameter pole.
These bases are best used with our boundary poles. They can be used as an alternative to slalom poles which are often unsuitable for use indoors, or to mark out pitches and courts anywhere you require.
Specifications
General
Made from 3 lbs / 1.5kg of black moulded rubber.
Bases are heavy enough to stay in place without interfering with play.
They are suitable for 1 inch poles with no ground spike.
Pack of four bases
Base diameter = 22cm
Has hole/slot to accept a 20mm diameter pole
Weight: 3 lbs / 1.5kg
Want to chat?
Contact us here and we'll get back to you as soon as possible.
Super fast shipping
Express shipping available
Questions & answers
Ask fellow customers what they think!
Hide Q&As
Questions & Answers
1 question | 1 answer
What is the measurement across this base?
Hi JD, thank you very much for your enquiry. These boundary pole bases have a circumference of 25mm.
Many thanks,
Grant
You may also like
FORZA Pro Soccer Training Pinnies [5 - 15 Packs]
CA$14.99
FORZA 5ft Spring Loaded Slalom Training Poles [1"]
CA$79.99
FORZA Soccer Training Passing Arcs
CA$44.99
FORZA Resistance Speed Chute
CA$14.99