Aussie Rules Football Spring Back Training Mannequins
Aussie Rules Football Spring Back Training Mannequins
Perform A Range Of Drills With These AFL Spring Back Mannequins
Spring Back Training Dummies
Designed to bounce back into position after collisions these training mannequins are supported by two spring-loaded slalom poles.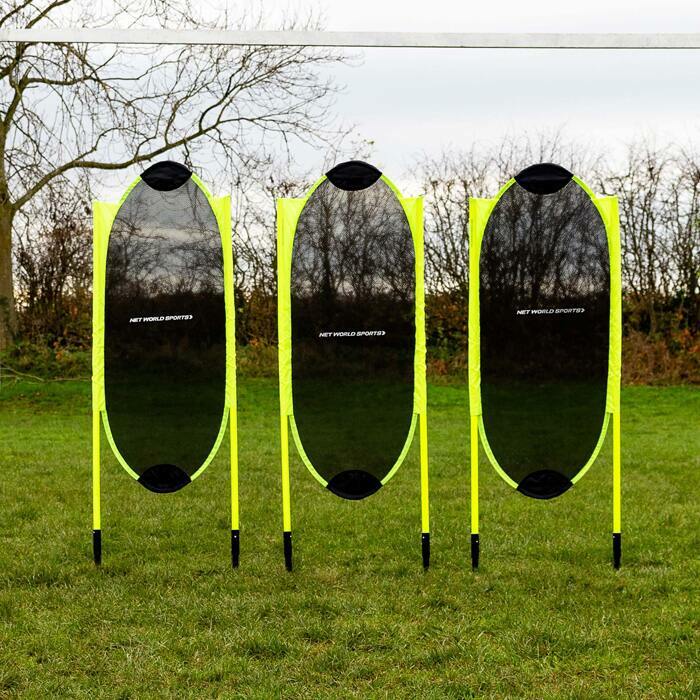 5ft Tall Mannequins
Standing at a height of 5ft these Aussie Rules Spring-Back Training mannequins will provide a realistically sized opponent for your team to train against.
Ultra-Durable Materials
Designed to take hits by balls and players these mannequins are manufactured from an ultra-durable mesh body that easily absorbs the force of collisions.
Description
Pack Of 3 Spring-Loaded 5Ft Tall Aussie Rules Football Training Dummies
Improve your team's kicking technique, agility and speed of thought with this pack of 3 versatile Aussie Rules Football Spring Back Training Mannequins. Each dummy stands at a height of 5ft (1.5m) tall to provide a realistic opponent, helping to simulate a more authentic match day feeling during training sessions.
Pack of Three Aussie Rules Football Spring Back Training Mannequins.
Ultra-durable mesh body absorbs the force of accidental collisions.
Mannequins stand at a height of 5ft (1.5m) and is supported by 2 spring-loaded slalom poles.
Slalom poles are made from 1 inch (25mm) thick shatterproof plastic.
Takes approximately 2 minutes to set up.
Supplied with a carry bag for easy transportation.
The body of each training mannequin manufactured from ultra-durable lightweight mesh which can easily endure both footballs and players. Made for safety each training mannequin is kept upright by two spring-loaded slalom poles. Manufactured from 1 inch (25mm) thick fluorescent plastic you can rely on these poles to stay strong and upright during impacts. To further absorb the force of incoming players each support pole has a coiled spring placed at the bottom. This spring allows the Aussie rules football mannequins to bend in any direction, without the need to rest your training drill after every hit.
Specifications
Dimensions
Mannequin height: 5ft (1.5m)
Slalom poles: 25mm (1 inch) thick
Material
Mannequins: Ultra-durable mesh
Slalom poles: Shatterproof plastic
Miscellaneous
3 training mannequins provided. 2 slalom poles for each pole.
Coiled springs placed on each support pole allow the mannequins to bend backwards
Carry bag provided for storage and transportation
2 minute set up time
Want to chat?
Contact us here and we'll get back to you as soon as possible.
Super fast shipping
Express shipping available
Questions & answers
Ask fellow customers what they think!
Hide Q&As
Questions & Answers
No one has asked a question yet!
You may also like
10 AFL Hygiene Water Bottles [34FL Oz] & Foldable Carrier
CA$84.99
FORZA Aussie Rules Football Speed & Agility Training Ladder
CA$14.99
FORZA Grand Match AFL Ball
CA$24.99
10 AFL Water Bottles [25Fl Oz] & Foldable Bottle Carrier
CA$44.99
Recently Viewed
FORB Golf Teaching Mat [5ft x 5ft]
CA$434.99
Soccer Evasion Training Belt
CA$9.99
FORZA Football Kicking Tee
CA$9.99