10 x 6 FORZA Alu60 Futsal Goal
10 x 6 FORZA Alu60 Futsal Goal
Official Regulation Sized Aluminum Soccer Goal For Futsal
Heavy-Duty Manufacturing
Only the finest components are used in this goal's construction, comprising of stainless steel nuts and bolts, sturdy weatherproof aluminum goalposts and exceptionally strong precision welded corner joints.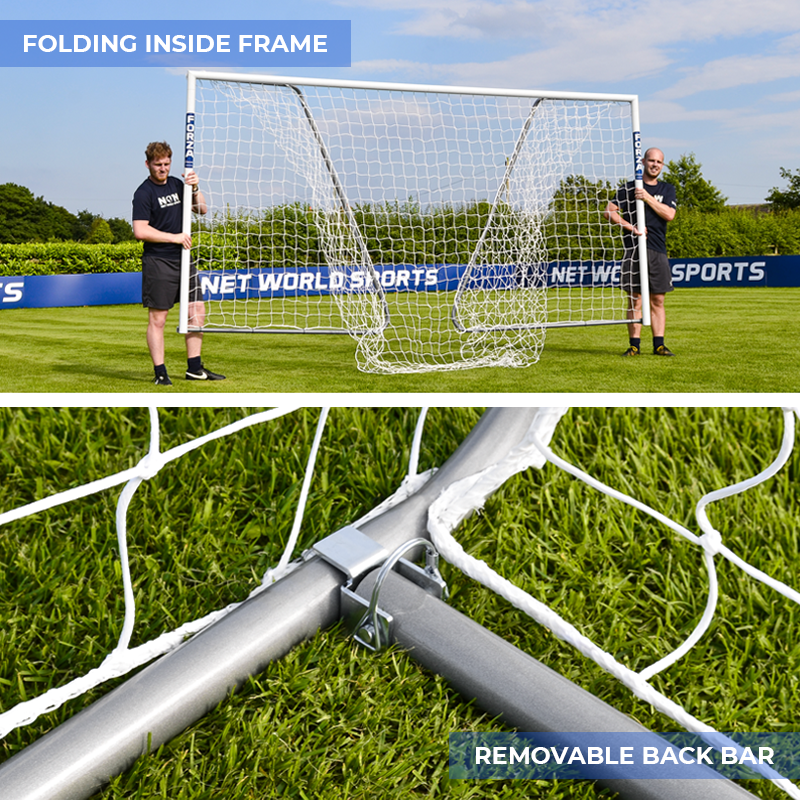 Easy To Operate Side Frames
The in-built hinge mechanism of the galvanized side frames provides convenient storage by folding the goal in on itself, while the hand-operated back bar is essential for reliable stability during use.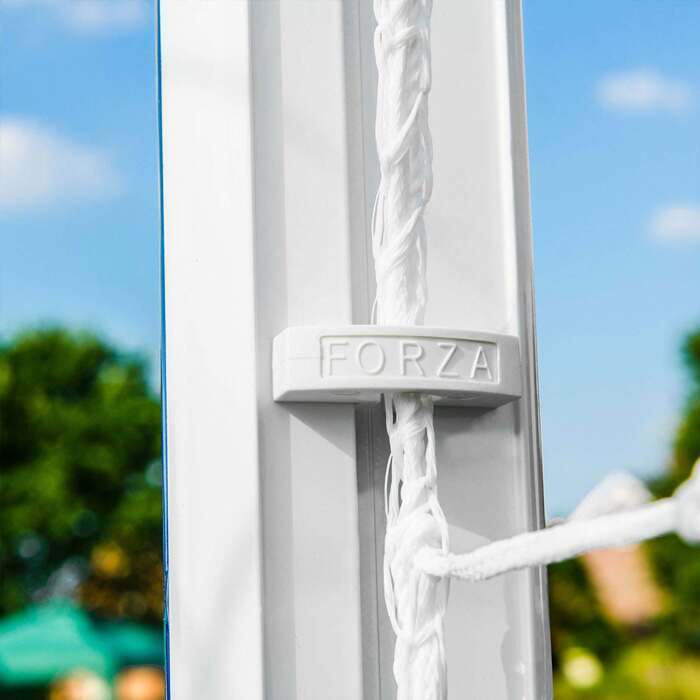 Weatherproof Braided Goal Net
A professional quality 3mm braided twine and 100mm mesh goal net is included as well as nylon locking net clips for secure attachment. The net is specifically tailored to fit within the goals internal channel.
Description
10ft x 6.5ft Aluminum Soccer Goal – Official Regulation Size Soccer Goals For Futsal
10ft x 6.5ft is the size of soccer goal that is used for futsal matches and training sessions, and this aluminum futsal soccer goal is perfectly suited to competitive action. The metal futsal goal can be applied to any playing surface due to its freestanding design, making it suitable to indoor futsal competitions and outdoor training sessions. This revolutionary soccer goal has been expertly designed to offer professional levels of quality to futsal teams and coaches.
10ft x 6.5ft official regulation size soccer goal for futsal matches, tournaments and training sessions
High-strength goal frames manufactured from 60mm reinforced white powder coated aluminum
The freestanding futsal goal can be moved by two people due to its lightweight goal frames
For ease of storage and enhanced mobility, the goal boasts galvanized steel foldaway sided frames
The weatherproof futsal goal also has a 3mm HDPE braided net and is suitable for indoor or outdoor use
Manufactured to provide consistently high performance levels over multiple years of futsal competitions, the soccer goalposts are made from 60mm reinforced aluminum which can handle heavy impact without becoming damaged. The weatherproof soccer goals for futsal are finished in a sleek optic white powder-coating, providing reliable protection against rust and corrosion associated with exposure to the elements.
While maintaining a heavy-duty design, the freestanding soccer goal is light enough in weight to be lifted by two people, providing exceptional portability. A top of the range 3mm HDPE soccer goal net is included for the full package, having been UV treated for superior strength and weather-resistance. For ease of attachment to the internal channel of the soccer goal posts, nylon net locking clips are also included.
The goalposts feature precision welded corner joints, which guarantee premium levels of strength in comparison with mitred joints. For convenient storage, the futsal soccer goals boast revolutionary galvanized steel foldaway side frames and a detachable back bar which can be operated with ease without the need for any tools. The back bar is an integral component which provides security and stability, making this the best futsal goal on the market.
PLEASE NOTE - The 10ft x 6.5ft FORZA Alu60 Soccer Futsal Goals have been independently tested to BS EN 8462 safety standards
Net World Sports are proud to be recognized by the FA as a suitable supplier of soccer goals
Specifications
10ft x 6.5ft FORZA Alu60 Futsal Soccer Goal Specifications
Dimensions
Goal Size (width x height) – 10ft x 6.5ft (3m x 2m)
10ft x 6.5ft soccer goals are the internationally recognized size for futsal
Top Runback – 35in (90cm, approximately 2ft 11in)
Bottom Depth – 41in (104cm, approximately 3ft 4in)
Bottom depth has been significantly reduced, making this goal ideal for indoor futsal games where space is at a premium
2.5mm thick aluminum
Materials
60mm reinforced aluminum goalposts which are very strong but light in weight
Aluminum is rust-proof and polyester powder coated optic white for high visibility
The powder coating is smooth and scratch-resistant
Heavy weight 30mm OD steel folding side frames
Quick release galvanized steel detachable back bars
The detachable back bars have quick release spring clips that are operated by hand (no tools required)
Fully welded corner joints provide superior strength and long-lasting reliability
Heavy-duty net constructed from 3mm OD braided HDPE twine with a 100mm knotted mesh size in white
Twist and lock-style safety net clips made from nylon securely attaches the nets neatly into the goalposts rear internal channel
Goal is weatherproof, low-maintenance and suitable for use on all surfaces, including grass, concrete, 3G, 4G, wooden and astroturf pitches
Both the goal nets and safety net clips are weatherproof and UV treated to protect against sunlight
Complete with high tensile stainless steel nuts, bolts, washers and zinc plated brackets
Miscellaneous
Weight – 39lbs (18kg)
Each individual futsal goal will be delivered in three boxes – Box 1: 1920x220x65mm, Box 2: 1710x250x65mm and Box 3: 345x285x175mm
Goals will be delivered in flat pack form and will require assembly
It is advised that the following tools would be useful to help with assembly: mallet, wrenches, ratchet with sockets
1 year guarantee as standard with all FORZA soccer goals
Conforms to British Standards and Soccer Association safety regulations
Independently tested to BS EN 8462 Safety Standards [Watch The Video Here]
Goals conform to FA Match standards. Net World Sports is recognized by the FA as a suitable supplier of soccer goals
PLEASE NOTE - This goal is also a regulation size Handball Practice Goal. Perfect for sports centers and schools looking to maximize their usage of the goal
Don't just take our word for it
I ordered a pair of these just to trial at our school as the students really wanted to try futsal and I have to say, I have been very impressed. I think we'll be purchasing more of these in the new school year – delivery was super quick too!
Want to chat?
Contact us here and we'll get back to you as soon as possible.
Super fast shipping
Express shipping available
Questions & answers
Ask fellow customers what they think!
Hide Q&As
Questions & Answers
3 questions | 3 answers
The specs say: Galvanized steel foldaway side frames Quick release galvanized steel detachable back bars Does that mean they are easily foldable for storage purposes?
Hi Duane, thank you very much for the enquiry. Yes, that is correct, you can remove the bottom back bar, this allows the sides to fold in and make the goals easy to store.
Kind regards,
Grant
What is the depth of these goals?
Hello Nick, Thank you for your question. The bottom depth of this goal is 41in (3ft 4in) while the top depth of the goal is 35in (2ft 3in) Many thanks, Tom
hi Just want to know if we can see a display of these goals anywhere in melbourne ?
Hi Ramez, thank you very much for the enquiry. Unfortunately, we don't have any showrooms/shops. We are an online retailer located in the U.K that can ship world wide!
You may also like
16 x 4 FORZA Alu60 Soccer Goal
CA$999.99
16 x 7 FORZA Alu60 Soccer Goal
CA$1,124.99
Freestanding STOP THAT BALL™ - Ball Stop Net & Posts [10ft High]
CA$229.99
3m x 2m FORZA Alu110 Socketed Futsal Soccer Goal
CA$1,374.99
3m x 2m FORZA Alu110 Freestanding Futsal Soccer Goal
CA$2,499.99