Paceman 245 Edge Baseball Pitching Machine [New Pro 2024 Model]
Paceman 245 Edge Baseball Pitching Machine [New Pro 2024 Model]

Paceman 245 Baseball Pitching Machine - Perfect Your Strike
Venomous Pitch Velocity
With an adjustable pitch speed of up to 62mph (110kph), the Paceman 245 Ball Machine is the most powerful of the Paceman range.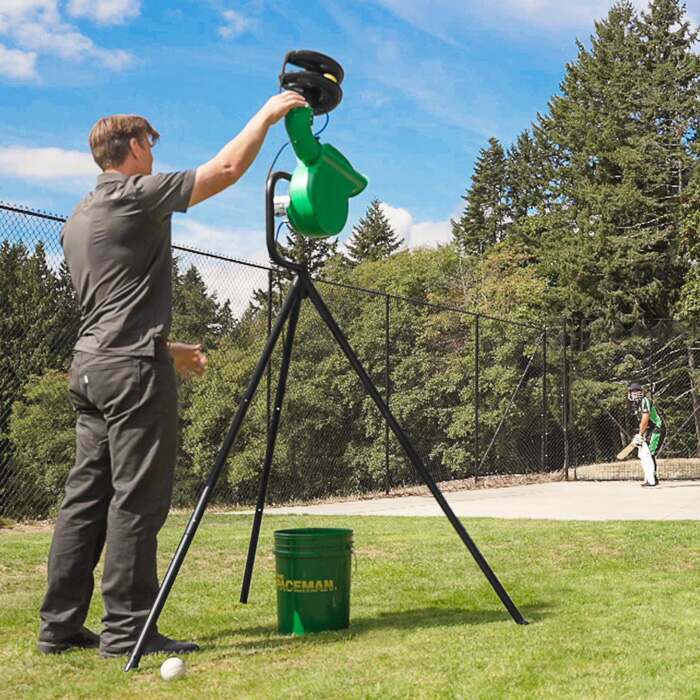 Auto Ball Feeder
Complete with a 12-ball automatic feeder these pitching machines are excellent for solo & professional practice sessions.
Pro Training Sessions
The Paceman 245 is an excellent option to improve your batting skills ready for gameday & competitions.
Description
Paceman 245 Baseball Pitching Machine – Ultimate Baseball Practice Equipment
Whether you're looking to improve your batting average or develop your overall game day performance, the Paceman 245 is a well-crafted elite pitching machine designed to successfully enhance a batter's hand-eye coordination & reflexes. Designed to be easily to set up & manoeuvre, these high-quality pitching machines are an excellent option for perfect the strike of all baseball pitchers. The pro Paceman features full directional adjustment which eliminates the need to rotate the machine to change pitches. As standard the 245 pitching machine comes with the machine & cable to connect to an SLA battery (not included). Optional pack of 12x balls are also available. The 245 Baseball Pitching Machine allows players to create the ultimate pitching practice set-up.
Pro Paceman 245 Baseball Bowling Machine – Perfect your strike ready for gameday
Delivers speeds of up to 62mph (100kph) with adjustable lengths & spin functionalities
Perfect for solo practice due to the high-quality 12-ball automatic feeder
Easy to move & assemble in no time due to the stable tripod design
Optional pack of 12x FORTRESS Pitching Balls
For battery option, BATTERY CHARGER IS NOT INCLUDED.
Specifications
Paceman 245 Baseball Pitching Machine Specifications
Features
Players & coaches can easily adjust delivery length, swing, speed & spin
Variable bowling pace speeds up to 62mph (100kph) with a FORTRESS Regular Ball
Maintenance free Concave moulded TPE wheel
Durable & lightweight machine with a heavy-duty DC motor
Power Source
Powered by 18AH battery (NOT INCLUDED) – SLA battery cable is included
Miscellaneous
12-ball capacity auto-feeder included as standard
Optional 12 Pack of Regular FORTRESS Balls available
We recommend using Bowling Machine Balls only to protect the bowling machine mechanism
Want to chat?
Contact us here and we'll get back to you as soon as possible.
Super fast shipping
Express shipping available
Questions & answers
Ask fellow customers what they think!
Hide Q&As
Questions & Answers
1 question | 1 answer
Can regular baseballs be used with this machine? It doesn't say in the features section.
Hi Marlyn, thank you very much for the enquiry. Unfortunately, this isn't something we would recommend. Although, they may work at first, over time they begin to damage the wheel mechanism. The paceman balls are specifically designed for these machine and they will not damage the mechanism.
Many thanks,
Grant
You may also like
Paceman 176 XT Baseball Pitching Machine [New 2024 Original Model]
CA$469.99