METIS 3 Tier Kettlebell Rack
METIS 3 Tier Kettlebell Rack
Professional Multi-Tier Storage Rack for Your Complete Kettlebell Set
Multi-Tier Design
Manufactured from heavy-duty steel, the robust structure is designed to save space in your gym setting with multi-tier shelving for a storage system to hold your complete kettlebell set.
Anti-slip Features
For optimum gym safety, each kettlebell storage tray features an anti-slip lining & a lipped edge to prevent the weights from falling. Anti-slip feet protect floor surfaces & add stability.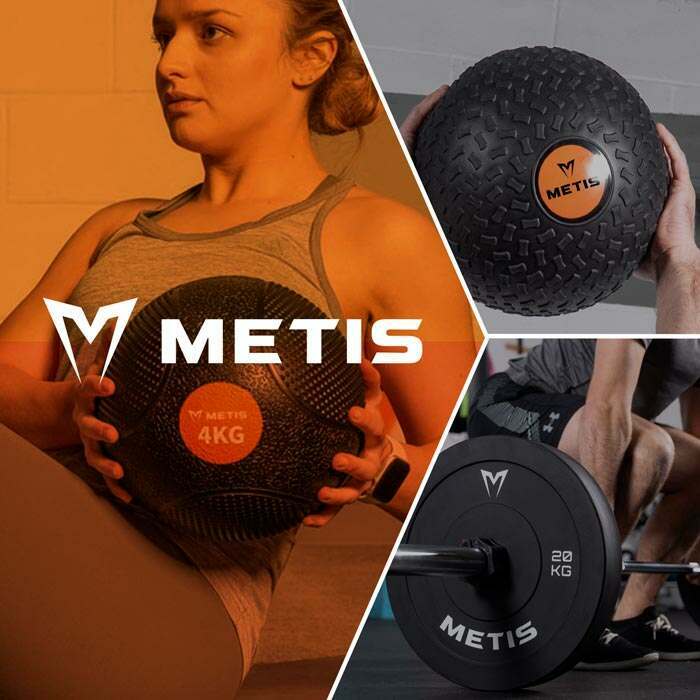 EXPLORE THE METIS RANGE
Set your goals & achieve them with the dynamic METIS fitness range. A range that covers all types of fitness & exercise, METIS is a brand that delivers professional quality for everyone.
Description
METIS 3-Tier Kettlebell Rack – Premium Storage for a Full Kettlebell Set
A classic 3-tier design means the METIS Multi-Tier Kettlebell Rack is a space-saving storage solution for your kettlebell set. Manufactured from tough powder-coated steel, the strong frame has a high weight capacity, with each tray featuring an anti-slip textured inner lining for a safe & durable shelving surface. Lipped tray edges also mean the kettlebells are less likely to fall and cause injury, so workout safety is increased. The stability of the kettlebell tower is enhanced by anti-slip feet which also help to protect the floor beneath from damage. Created to suit both professional gym setups & home gyms, the sleek finish makes this kettlebell stand a premium addition to any fitness suite.
METIS 3-Tier Kettlebell Rack – Capacity to support a large range of kettlebells
Kettlebells & trays protected by anti-slip EVA textured lining in each tray
Heavy duty 2mm thick steel – Powder-coated for a sleek, durable finish
Space-saving 3 tier design is perfect for home & commercial use
Anti-slip feet provide floor surfaces with protection against marks & scratches
PLEASE NOTE: Do not exceed the maximum weight load of the rack. Always place kettlebells on top of the trays with control, do not slam or drop.
PLEASE NOTE: Ensure the kettlebell rack is placed on a flat surface.
Specifications
METIS 3-Tier Kettlebell Rack Specifications
Available Options:
Kettlebell Rack Only
Rack + Kettlebell Set: Kettlebell Rack with 8 x METIS Neoprene Kettlebells – 9lbs, 13lbs, 18lbs, 22lbs, 26lbs, 31lbs, 35lbs, 44lbs
Rack + Cast Iron Kettlebell Set: Kettlebell Rack with 9x METIS Cast Iron Kettlebells - 9lb, 13lb, 18lb, 26lb, 31lb, 35lb, 53lb, 71lb, 88lb
Dimensions
Footprint of rack – 31in L x 22in W x 33in H | 79cm L x 56cm W x 84cm H
Bottom tier – 27in x 9in x 1in | 68cm x 22cm x 2.3cm – Max. load: 441lbs | 200kg
Middle tier – 27in x 7in x 1in | 68cm x 18cm x 2.3cm – Max. load: 419lbs | 190kg
Top tier – 27in x 7in x 1in | 68cm x 14cm x 2.3cm – Max. load: 397lbs | 180kg
Distance between top & middle tier – 12in | 30cm
Distance between middle & bottom tiers – 14.5in | 37cm
Materials
Heavy-duty 2mm thick steel rack – Strong to support high loads
Premium black powder coating for durability & longevity
Anti-slip EVA tray liners – Protect tray & kettlebells against damage
Miscellaneous
Maximum weight load (complete rack) – 1257lbs | 570kg
Product weight – 60lbs | 27kg
Anti-slip rubber feet – Prevent rack sliding around & damaging the floor surface
Freestanding design suitable to hold a full range of kettlebells
Suitable for home & commercial use
Don't just take our word for it
Sturdy & well designed. Can't fault the quality.
Want to chat?
We're here on

live chat

right now!
Or via phone or email if you'd prefer...
Super fast shipping
Express shipping available
Questions & answers
Ask fellow customers what they think!
Hide Q&As
Questions & Answers
No one has asked a question yet!